Main content starts here, tab to start navigating
Menus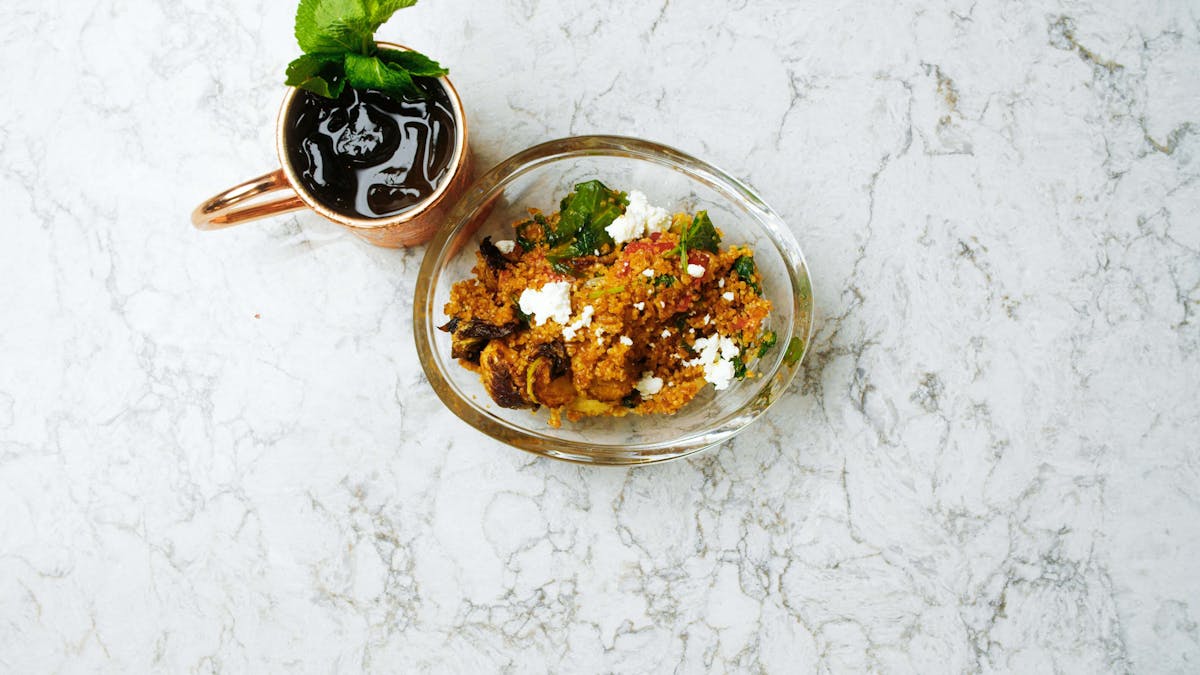 Slide 1 of 2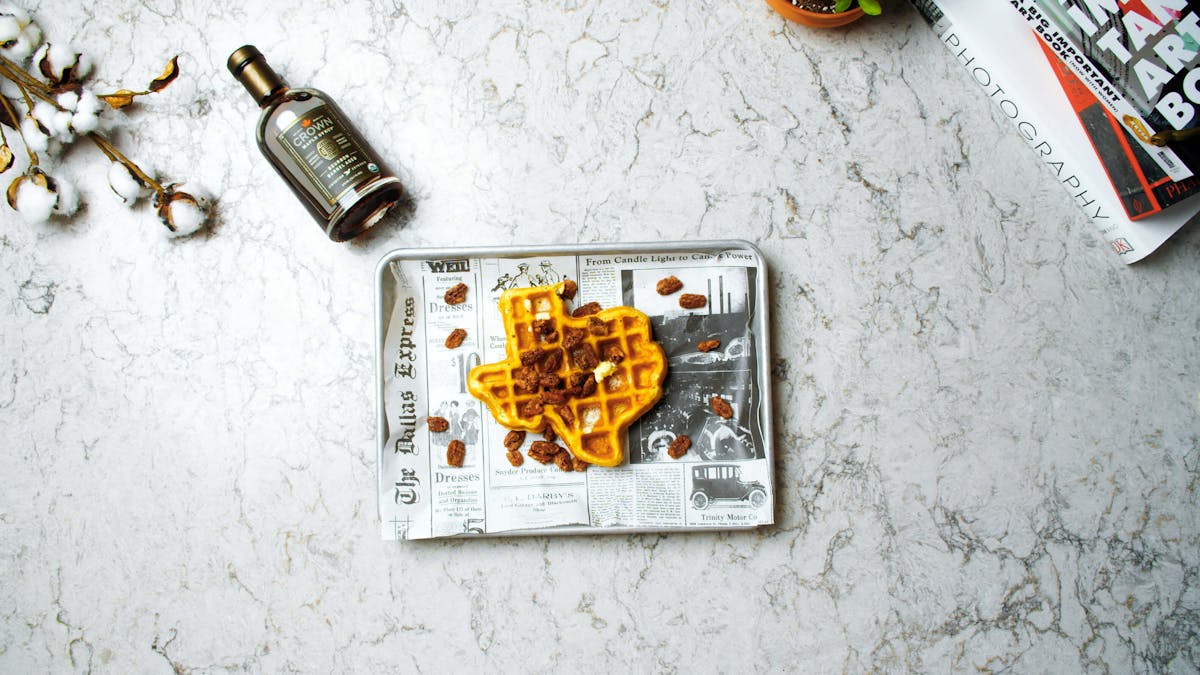 Slide 2 of 2
Mains
Beeman Breakfast

two eggs any style, breakfast potatoes, choice of bacon, sausage, or smoked sausage, toast or texas-style biscuit, house-made jam

$14

Açai Bowl

greek yogurt, açai, granola, berries & bananas

$15

Steel Cut Oats

served with warm apple compote and brown sugar

$10

Seely's Sandwich

fried egg, smoked brisket and cheddar cheese on texas-style biscuit

$12

Brisket Hash

potatoes, peppers, onions and smoked brisket with 2 eggs any style

$16

Chicken & Waffles

signature texas waffle, southern-fried chicken served with maple syrup and sweet cream butter

$16

Texas French Toast

brioche texas toast, fresh berries, powder sugar

$12

Texas Waffle

served with fresh berries and whipped cream

$12

Omelet

Choice of 3 ham, bacon, sausage, chorizo, brisket, onion, mushroom, peppers, tomatoes, jalapeno, spinach, and avocado, served with toast or texas biscuit

$16

Additional Items $1

Biscuits and Gravy

2 texas buttermilk biscuits, country sausage gravy

$9

3 Breakfast Tacos

Egg & tomato, spinach, potato with cheese, bacon & egg, potato with cheese, egg, chorizo, potato with cheese

$12

On flour tortillas with fresh made salsa "mix 'em up" $2

Seasonal Fruit Plate

Fresh seasonal fruit plate served with a honey greek yogurt dipping sauce

$14
Sides
Bacon

(3)

$5

Sausage Patties

(2)

$5

Smoked Sausage

$5

Biscuit

$2

Sour Dough, Wheat, Rye Toast

$2

1 Egg

$3

Country Potatoes

$3

Sliced Avocado

$2
The Buzz
Featuring coffee from Noble Coyote Coffee Roasters of Dallas
Coffee & Drinks
Drip Coffee

$4.50

Espresso

$5

Cappuccino

$5.50

Americano

$5

Latte

$5.50

Mocha

$6

Hot Chocolate

$5

Milk Choice

Whole

Skim

Almond

Soy

2% Milk

Flavoring

Vanilla

Caramel

Chocolate

White Chocolate

Hazelnut

Sugar-Free Vanilla
Saddle Up
Seely's Smoked Chicken Wings

Chipotle bbq, texas dry rub, buffalo, speakeasy hot

$18

Beeman Quesadilla

Cheddar and Monterey cheeses, roasted peppers, onions, & mushrooms

$12

Pulled Pork $4

Smoked Chicken $3

Smoked Brisket $5

Tri-Colored Chips and House made Salsa

$6

Signature Guac $4

Pepper Jack Queso $5

Pulled Pork Nachos

Smoked pulled pork, house-made bbq sauce, fresh pineapple pico, queso fresco

$12
Greens
Smoked Chicken $4

Smoked Brisket $5

Grilled Shrimp $6

Caesar Salad

romaine, parmesan, hand-made croutons, classic caesar dressing

$12

Country Cobb

spring mix, smoked chicken, bacon, boiled egg, avocado, tomatoes, roasted corn, bleu, cheddar and Monterey cheeses

$17

Mediterranean Quinoa Salad

Quinoa, cucumbers, marinated tomatoes, olives, garbanzo beans, with mixed greens tossed in wine vinaigrette

$13

Smoked Chicken $5

Grilled Shrimp $6

Grilled Salmon $8
Between the Bread
Includes Choice of Jalapeño Slaw or House-Cut Fries
Brisket Sandwich

Slow smoked chopped brisket, house chipotle bbq sauce, fried onion straws, jalapeno texas toast

$16

Club Croissant

Smoked turkey breast, black forest ham, bacon, swiss and cheddar, lemon aioli

$14

Texas Short Rib Burger 8oz

Ground short rib , served on a brioche bun,

$16

Cheese

Bacon

Mushrooms

Onions

Jalapenos $0.75

Specialty Burger of the Moment

ask server for details

$17

Beeman Burger 8 oz

Short rib burger patty, house chipotle bbq sauce, cheddar, bacon, brioche bun

$16

Chicken Sandwich

Choice of grilled chicken topped with bacon, avocado, swiss cheese, lettuce, and tomato or deep fried with a spicy dredge, avocado aioli, brioche bun, lettuce and tomato

$16
Extra Fixins
House-Cut Fries

$4

Jalapeño Slaw

$4

Burnt End Beans

$4

Texas-Style Biscuit

$3
Mains
Street Tacos (Choose 3)

$15

smoked chicken with queso fresco

fried catfish with lettuce, pico de gallo & tartar sauce

chopped brisket with pickled onions & jalapeño slaw

Marinated Portabella Tostadas

Grilled portabella mushrooms, avocado, texas caviar, stacked corn tostadas, bed of mixed greens tossed in a citrus vinaigrette

$14

Fried Catfish

two filets of fried catfish, jalapeño slaw, house-cut fries, tartar sauce and speakeasy hot sauce

$20

Grilled Salmon

Grilled salmon filet, honey citrus glaze, quinoa

$28

Texas style Chicken and Waffle

Signature Texas waffle and southern Spicy fried chicken, hot sauce, maple syrup, sweet butter

$17

Flat Breads

Choice of Margherita - marinara, tomatoes, basil, fresh mozzarella, olive oil & balsamic drizzle or florentine, smoked chicken, alfredo, spinach, mushroom

$18
Smoker
Served with burnt end beans, jalapeno slaw, Jalapeno corn muffin Served by the ½ pound
Slow Smoked Brisket

$18

Chicken Quarter

$12

Pepper Sausage

$11

Pork Rib

1/2 Slab $21

Full Slab $34

Two Meat Plate

Choose two meats

$21

Signature Sampler

Brisket, pork ribs, chicken, sausage

$29
Sweets
Pure Milk & Honey Ice Cream

from our neighborhood, made with certified local texas milk and 100% raw honey choice of: honey, chocolate, seasonal flavor

Scoop $5

Banana Pudding

classic flavors, vanilla wafers, banana pudding with sliced bananas and whipped cream

$8

Boot Scoot Brownie Sundae

a double chocolate brownie with a scoop of your choice of ice cream, whipped cream and chocolate sauce

$9

Bourbon Pecan Pie

thick and rich with smoked pecans & fresh whipped cream

$7

The Cookie Sundae

Warm chocolate chip cookie, honey ice cream, chocolate sauce & whipped cream

$9
Crafted Cocktails
Maple & Rye Whiskey Sour

Lockwood texas rye, barrel aged maple syrup, fresh lemon

$14

The other margarita

Blanco tequila, fresh lime, fruit puree

$14

Watermelon High

Dripping springs watermelon & cucumber infused vodka, cranberry, simple

$14

Spiced Pecan Old Fashioned

still austin whiskey, praline liqueur, orange bitters, angostura bitters

$16

Beeman's Knees

Still Austin gin, elderflower liqueur, house-made local honey simple, fresh lemon

$14

Cozmosis

Nue peach vodka, pomegranate liqueur, pineapple, sparkling wine

$13

Serrano Margarita

Serrano infused Blanco tequila, triple sec & lime juice

$14

Hibiscus Gin Cooler

lockwood texas gin, lemon and lime juice, hibiscus simple

$13

Barrel-Aged Cocktail of The Moment

We have partnered with local distilleries to create rotating our barrel-aged cocktails

$17
Happy Hour
5-7 PM Daily, Restaurant Only
Well Drinks

$5

House Wine

$6

Draft Beer

$6

20% off Saddle-Up Appetizers
Local Taps
$7
Community Mosaic

India Pale Ale 8.6%

Karbach Light Circus

Hazy India Pale Ale 6%

Manhattan Ale Project Necessary

Evil Pilsner 5.3%

Peticolas Velvet Hammer

Imperial Red Ale 9%

Tupps Hefewiezen

Wheat Beer 5.2%

Seasonal Rotator Tap

Check with the server and see what's in season!
Brews by the Can
Domestic

$6

Import / Craft

$7

Tall Boys

$8
Flights
Texas Whiskey Trail

$27

Balcones Baby Blue Corn

Blackland Rye Whiskey Rye

Lone Elm Small Batch Whiskey Wheat

Still Austin Straight Bourbon Whiskey

Corn, Rye, Barley

Don Julio Flight

$28

Don Julio Blanco

Don Julio Reposado

Don Julio Añejo

Beer Flight

pick four from our local lineup

$11
Help Us Create the Next Moment—Tag Us @seelysmill
For 10 or more people we kindly ask for 24-hour notice for barbeque buffets and 2-hour notice for all other items
Salads
Priced per person
Cobb Salad

lettuce blend, bacon, smoked chicken, boiled eggs, avocado, tomatoes, roasted corn and cheese

$12.95

Smoked Chicken Caesar Salad

romaine, smoked chicken, parmesan, housemade croutons with caesar dressing

$13.95
Seely's Signature
brisket and smoked chicken breast served with burnt end beans, jalapeño slaw and texas-style biscuit

$18.95
Sandwiches
INCLUDES CONDIMENTS, HOUSE-MADE CHIPS & COOKIE
Grilled Chicken Sandwich

herb marinated grilled chicken breast, lettuce, tomato, onion, pickles and lemon aioli on a toasted brioche bun

$14.95

44 Farms Burger

two 44 farms beef patties, cheddar, lettuce, tomato, pickles and onion on a toasted brioche bun

$14.95

Chopped Brisket Sandwich

chopped brisket, jalapeño slaw, pickles and crispy onion straws on texas toast

$14.95
Barbeque Buffets
The Sandwich Spread

buffet of our signature brisket and smoked chicken breast, toasted brioche buns and butter-toasted texas toast, burnt end beans, jalapeño slaw, condiments, and freshly baked cookies

$17.95

Add Sausage (Price Per Person) + $2

Carpe Eat'em Buffet

signature brisket, pork ribs, smoked chicken breast, sausage, burnt end beans, jalapeño slaw, potato salad, texas style biscuits, condiments, and a variety of fresh baked cookies

$32.95
Beverages
By The Gallon

INCLUDES BEVERAGES, ICE, CUPS, SLICED LEMONS & SWEETENERS

$8.95

Tea

Sweet Tea

Lemonade

Single Water Bottles

$2
TO ORDER Call (214) 750-6060 ext. zero. Payment required when order is being placed and will include the added tax and a15% Service Charge. Order pick-up between 11 AM and 5PM at the Seely's Mill Bar area.